My high school friend, Tina is a beachbody coach and has an inspirational fitness journey.  I love seeing her recipes come through my facebook feed.  One day she had this super cool idea:

When I was at Walmart the other day, I grabbed a package of the rainbow jelly bracelets ($2.88 in the kid's section of the jewelry department) to see if tracking with them would work for me.  So far I love it.
I do mine a little differently.  I tried using the Beachbody containers for measuring, but I feel better when I eat the Fit Yummy Mummy way.  Holly recommends slightly smaller protein servings (15-20g) to spread them out more evenly during the day.  1 little serving of protein 6 times a day.  Also I don't limit my non-starchy veggies and allow a little more fat.
While I'm weight training and recovering from adrenal fatigue 1500 calories a day is more appropriate for me.  I could have purchased a 2nd pack of bracelets to stick to the beachbody colors, but if I let all that go, and reassign the colors to be intuitive, I could make 1 packet of bracelets work for my needs.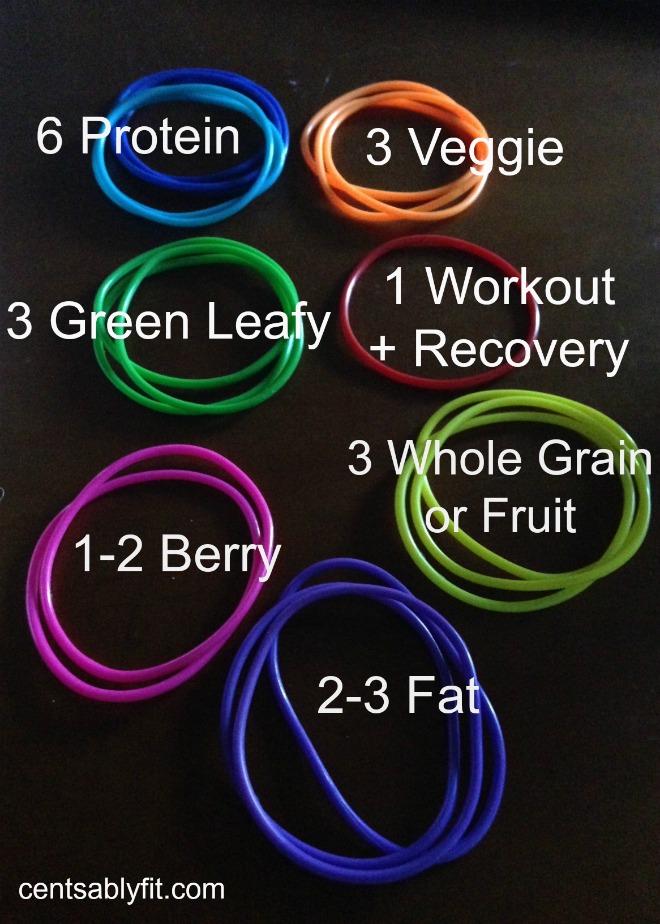 I break down the serving sizes by calorie content to make it simpler.  Then on any given food, I read the package or check with My Fitness Pal to decide how big my serving size should be.  I'm pretty quickly memorizing sizes so I don't have to look stuff up anymore.
6 Blue: Protein (15-20 g) around 100 calories each (I used both light and dark blue for protein since there were only 3 of each color, but there's no difference between the two colors for tracking purposes.)
3+ Orange: Veggie around 40 calories each (this is more to remind me to eat them, than it is to limit my servings of them)
3+ Green: Leafy Green Veggies around 20 calories each (At least 3 servings, but I can have more :).)
1-2 Pink: 1 cup Blueberries, Raspberries, Strawberries, or Blackberries around 60 calories each (I use these in smoothies, or to top oatmeal, bran flakes, or Greek Yogurt.)
2-3 Yellow: Whole Grains or fruit = between 100-120 calories each
2-3 Purple: Fats between 100-120 calories each.  This would include things like nuts, nut butters, fatty salad dressings, avocado, coconut oil, and olive oil
1 Red: Workout, plus a workout recovery shake (1 cup almond milk + 1 scoop recovery protein.) 
If I take the low end of all the calorie markers before the workout recovery shake it's right at 1240. The higher serving count with the highest calorie allotment for every serving is 1620 calories.
With the calories in mind, I can pull appropriate bands.  For example, I had shredded pork roast for dinner.  It is a fattier protein, so I measured out my serving, then used a blue band plus a purple band to signify the appropriate calories from the protein and fat.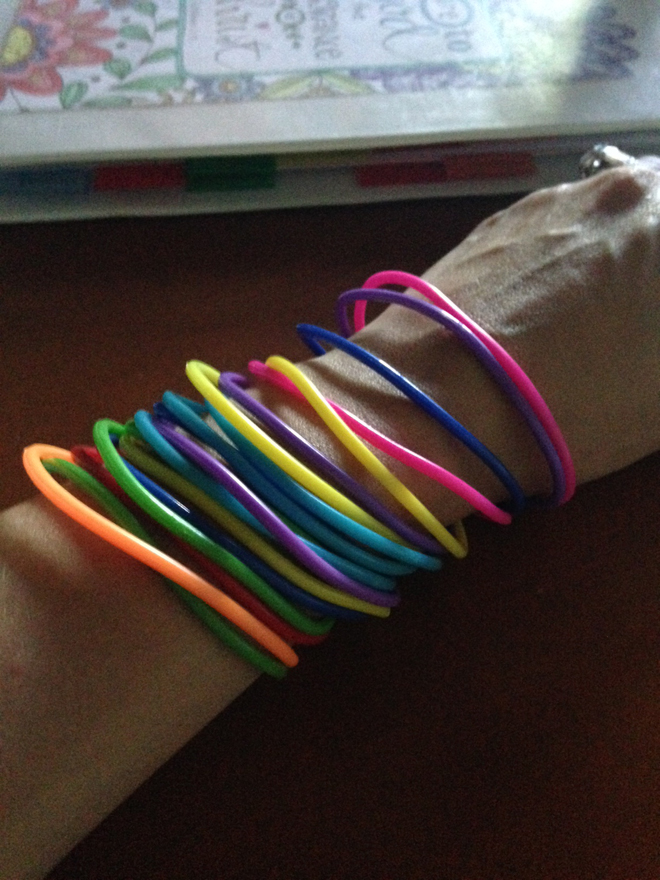 While this isn't my fashion look of choice, I don't leave the house a lot :).  When I eat something, I move the band from my left to my right arm.  When I walk by my vanity area, I move the used bands from my right arm to the top of my lotion bottle (the pump holds them perfectly.)  Then they are ready to start over for the next day and I don't have to sleep with them.
The thing I noticed most about using this system is it reminds me at a glance what I haven't been eating enough of.  If I get past noon and still have 4 protein bands on my arm, I haven't been doing my protein and produce at each meal properly.   It also helps me spread my food out during the day.  If it's noon and most of my bands are gone, I know I have a problem, lol! I like to meal plan the night before with the bands in mind, but a meal plan is only as good as the execution.  The bracelets are a great visual reminder of my goals.